Mar and Korina In Morning Girls (May 28, 2004 Episode)
These video grabs are courtesy of kuya Francis Lingad.

The Look Of Love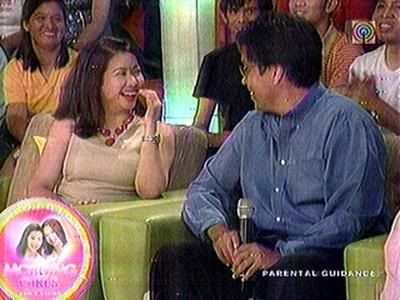 Korina: A year ago today, I was with you and I'm happy that today I'm with you still (Audience went Ohhhhhhhh! then clapped).
Mar (to Kris): Naks no! Galing!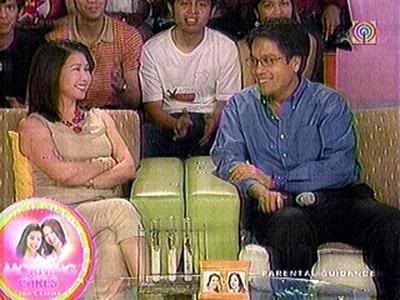 Kris: How often do you say, "I love you" with each other?
Mar: Hindi mabilang yung araw-araw na nararamdaman mo Kris eh.

Sealed With A Kiss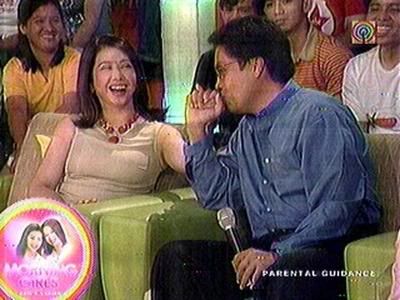 Kris: Are you in love with her?
Mar: Absolutely! Yeah(Audience shrieks)!
Korina: Wow! How nice naman!
Kris: ...Korina, kasi you always say that you're strong, you're tough, it takes a lot to make you cry and to make you bend, pero are you in love with Mar Roxas? He said absolutely Korina. So, ano ang sagot mo doon?
Korina: Certifiably so!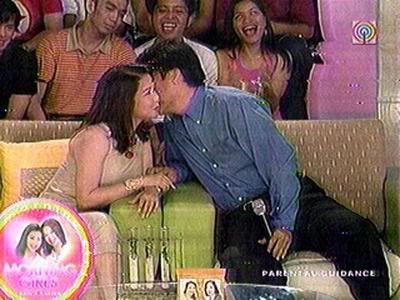 Mar (to Korina): I wanna to thank you for being with me, for spending this last several months over the year with me, taking time to discover each other, because at the end that's all anybody can really ask for is a chance. So I wanna thank you.


Mar: ...saan man ako makarating, ang mahalaga is that kung may First Lady ako si Korina ang First Lady regardless kung saan man, kahit sa palengke, First Lady.