The Mar-Korina Riddle: Game Na Ba Sila?
The Mar-Korina Riddle: Game Na Ba Sila?
The Philippine Star
April 26, 2004
FUNFARE
By Ricardo F. Lo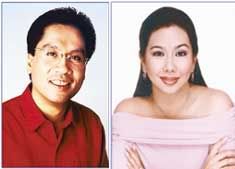 Action speaks louder than words.
Cliché?
Well, not in the case of Senatoriable
Mar Roxas
, a.k.a. Mr. Palengke, and
Korina Sanchez
who continue to, ehem, keep the public guessing whether they are an item or not - are they getting married or what? - even if their actions, like a picture, paint a thousand words.
They (pretend?) to be evasive and yet they love to tickle the public's imagination, such as last Friday on Morning Girls when, teased by guest Maricel Soriano, Korina kissed Mar's face on his campaign T-shirt; or, cornered by a TV reporter, Mar sort of beat around the bush when you could read between the lines that - okay, okay - he obviously loves Korina.
Last Thursday, Mar attended the opening of Joyce Jimenez's store at SM Manila and guess who he gave the giveaways to - yes, of course, to Korina! Asked if the package included a Joyce Jimenez signature lingerie, Mar quipped,
"I don't know; I didn't open it."
The box, he meant.
"If there was such an item in the package, I hope it fits her. If not, I can always exchange it."
Oops, let's backtrack before we stray into intimate territory.
Mar did admit having a love son (with a former Binibini) whom he described as good-looking ("Mana sa Mommy niya") and a member of his school's Honor Roll, but that's the farthest he would talk about the boy.
His mother, Judy Araneta-Roxas, was quoted as saying that, yes, Mar and Korina are, indeed, going steady but Mar lightly dismissed it by saying,
"Mabuti pa ang Mommy ko, alam niya..."


And so does the whole world. Are Mar and Korina the last to know?
Last Friday, Mar kind of shot the breeze with a dozen movie writers over lunch at Cibo (ABS-CBN branch, owned by his cousin, Margarita Fores) and he survived his first close encounter with the unbridled movie press intact (well, almost!). Somewhat reluctantly, Mar was forced to talk about his private life. He didn't have a choice.
He said that he had known Korina for years -
"Matagal ko na siyang hinahangaan"
- and most of their encounters were professional until six years ago when they both received awards at a National Press Club (NPC) affair, he for being an Outstanding Congressman and she as an Outstanding Broadcaster.
"A typhoon was raging outside at that time,"
recalled Mar.
"We were seated beside each other and we talked about many things - the floods, the traffic mess, scuba-diving, etc."
Afer that, they would bump into each other in social functions, but their relationship never graduated beyond the "friendship level." Things just didn't jibe. She was committed and so was he.
Then last year, Mar mustered enough guts to invite Korina out.
"Wanna have ice cream?"
he asked her.
They clicked - and discovered that they had many things in common. She was free and so was he. The coast was clear, so to speak.
Asked what he admired about Korina, Mar smiled.
"Her heart. Her brains. Her being civic-spirited. Hanga ako sa kanya. Tunay siya. At matapang."

Contacted for comment, Korina gave Funfare five reasons why she like(s) Mar, to wit:
"1. His IQ and EQ combined. Both are equally high. His IQ is not Einsteinish or alienating; it's applicable. His IQ/EQ combined is, I've figured, what makes him woman-deadly."

"2. He's a family man. Very few men find much pleasure in being as around, active and as concerned with family. It's what makes him happiest. He prefers having dinner with his nephews and nieces to attending socials."

"3. Simple joys. Walang bisyo. Almost squeaky clean. His idea of fun is reading, going for ice cream, flying a kite and exercising."

"4. He's his own man. He's a rebel for a good cause. Walang nakakadikta sa kanya. He listens to sound suggestions and organizes well. But he has the final say. He judges for himself. Maganda 'yon. He can't be ruled by a mob."

"5. Very hardworking. That part of him everybody knows of. He has a mind and heart for this country. He has purpose. He genuinely has all the right stuff to lead a country like ours."

There. Full of lovin', isn't it?
They did sound like bona fide members of a Mutual Admiration Club, didn't they?
Would he encourage Korina to enter politics if and when?
"Korina has a mind of her own; nobody can tell her what to do. But I would support her in whatever endeavor she pursues. She might eventually go into politics, who knows? I myself never dreamed of becoming a politician. What I wanted to be was a businessman and a philanthropist."

He's actively involved in the Gerry Roxas Foundation put up in the '60s. So far, the Foundation has sent to school hundreds of scholars. Malaya Entertainment Editor Gie Trillana was a recipient of the scholarship but she didn't avail of it and enrolled instead at La Salle (not included on the list of schools covered by the scholarship).
Mar, now 47, said that his "politicalization" happened when he was 15 back in August 1971 when the Liberal Party meeting at Plaza Miranda was rudely interrupted by a deadly bomb. Among those injured were his father, Sen. Gerry Roxas (who later died of liver cancer at age 57 in 1982) and his mom who, until now, cannot kneel because of her badly-damaged kneecap.
"I saw it on TV,"
said Mar.
"It was a nightmarish experience."

But there was no escaping the lure of politics. It's in his genes, handed down not only by his father but also by his grandfather, President Manuel Roxas.
"Some people are wondering if my being Mr. Palengke is a gimmick,"
said Mar.
"It's not. Not many people know that I was brought up by my (other) grandfather (Don Amado Araneta) at the heart of Quezon City's business center. Kaya alam ko ang bagsakan ng mga bilihin sa palengke (now the Farmer's Market). I've always been a palengke boy."

Besides seeing his parents almost get killed in that bombing, Mar considered the death of his younger brother Dinggoy (at 35, of liver cancer) as another experience that left him with enduring pain. When Dinggoy was diagnosed with cancer, Mar took a four-month leave from his job and took care of Dinggoy, attending to him as a nurse would round the clock. Up to now, several years later, Mar can't talk about Dinggoy's untimely passing without feeling a lump in his throat and suppressing tears.
Anyway, before we forget...
Since it's a foregone conclusion that he and Korina are "committed" to each other (even if they refuse to admit it), do they have any plans of getting married soon?
Korina wouldn't comment. And neither would Mar. Instead, he sustained the guessing game.
"Hindi natin hawak ang future,"
he said.
"We don't know what the future has in store for us."
Or, are they, ehem, the last to know?