Mar, Korina Set For US Holiday
The Philippine Star
June 9, 2004
FUNFARE
By: Ricardo F. Lo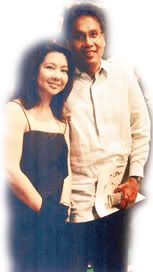 If plans don't miscarry, Senator-elect Mar Roxas and his ladylove Korina Sanchez will leave tomorrow on a two-week well-deserved "victory" holiday on both coasts of the US.

Oops! Before you jump to any conclusion that the sweethearts are going on a "honeymoon," as the Funfare DPA jokingly referred to the trip, let me hasten to add that, so far, the Honorable Senator hasn't even proposed marriage to Korina yet. Besides, it's not only the two of them who are travelling; Mar's family (mom Judy and sister Ria), and maybe some other relatives, are also going.

That very simply and very clearly means that the Roxases and the Aranetas have accepted Korina as a member of the clan, contrary to speculation that Mar's mom doesn't fully approve of the romance.

The recent elections in which Mar emerged as topnotcher in the senatorial race, with a staggering 19-million-plus votes, must have strengthened the bond between Mar and Korina. Admittedly, Mar has his own clout but his association with Korina has definitely enhanced his public appeal.

I have a feeling that Mar will run for a higher office in Year 2010 and Korina will again prove to be one of his big assets.

Anyway, while abroad, will Mar finally propose marriage to Korina (maybe while their companions are looking or eavesdropping)?