PEOPLE Asia Scores A Scoop
PEOPLE Asia Scores A Scoop

Philippine Star
July 6, 2004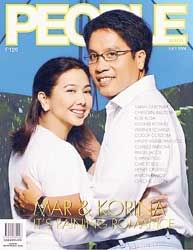 PEOPLE Asia's July cover is a media coup: that most reclusive of famous couples,
Sen. Mar Roxas
and broadcast journalist
Korina Sanchez
, come out from behind the umbrella of privacy to tell us about their now-public romance. Mar and Korina opened their doors and their hearts in our exclusive side-by-side interviews. Join the new senator in his home as he talks, clowns, and cuddles with his high-profile partner Korina. And read about the private pains and hurdles faced by this popular news host in the past year. It's tantalizing scoop you won't want to miss.
*
Look for the July issue, now on sale at your favorite newsstands.