Mar and Korina At The Centennial Celebration For Sarabia Optical
Mar-Korina Photo

The Philippine Star
March 11, 2006
The Pepper Mill
By Pepper Teehankee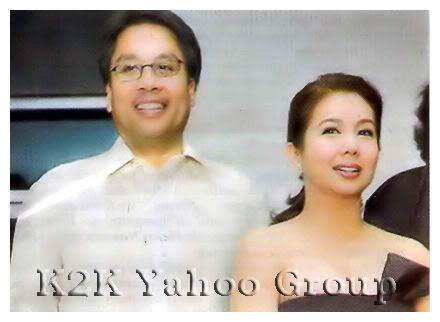 Senator Mar Roxas

and the lovey

Korina Sanchez
Related News Article:
Centennial Celebration For The Famous Sarabia Optical

Manila Bulletin
April 6, 2006
Celebrity World
The Sarabia clan celebrated recently the centennial year of the country's pioneering Sarabia Optical with a very elegant and intimate cocktail party. The event was held at the Ayala Museum.
The program was hosted by
Ms. Korina Sanchez
who, in the course of her chore during the lighting of the 10 candles signifying the 10 fruitful and memorable decades of the history and growth of Sarabia Optical, special-mentioned two of the candle-lighters,
Senator Mar Roxas
and Dr. Vivian Sarabia, as "two people very close to my heart."