A Child Of Show Biz, Too
A Child Of Show Biz, Too


Philippine Daily Inquirer
By Marinel Cruz
January 15, 2009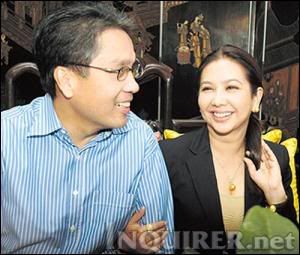 MANILA, Philippines—
"We should make local products available to the global market,"
said
Sen. Mar Roxas
, replying to a question posed by the Philippine Daily Inquirer on how to improve the current state of the entertainment industry.
Roxas made the statement during a gathering of show biz writers in his Quezon City home on Monday night.
"Let's aim for foreign exhibition,"
he stressed.
"This would mean bigger revenue for local producers. We watch shows produced by Korea, Mexico, Malaysia and Thailand. Let's make sure they watch our shows, too."
However, Roxas said, bigger funding is needed to come up with products that meet global standards, and
"that's where government can help."
Roxas thanked his guests for their "continued" support.
"The entertainment industry contributed [in a big way] to my family's success. My lolo (Don Amado Araneta) was a producer of live shows and movies," he said. "In my public career, a lot of you also helped me in one way or another by writing about my work."
Present during the gathering at Bahay na Puti on P. Tuazon in Cubao (next door to the family-owned Araneta Coliseum) was Roxas' girlfriend, broadcaster
Korina Sanchez
, his mom Judy Araneta, sister Ria, aunt Baby Fores, and cousins Veana and cousin Margarita. Guests enjoyed a sumptuous buffet.
The 46-year-old senator (full name: Manuel Araneta Roxas II) was of course asked about marriage plans, but he remained tight lipped on the subject.
He merely said,
"We've been together for five years. Marriage will come in its own time. Right now we're in a good place. I continue to be in love with her, and hopefully she loves me as much."
As for his rumored intent to run in the 2010 presidential race, he was not coy about his qualifications:
"I have an impeccable track record. I have a wide experience dealing with the private sector. I've been part of the executive branch when I was a Cabinet member, of the legislative branch when I was in Congress and now, in the Senate."
The writers insisted, what's keeping them from tying the knot? His carefully worded reply:
"We're no longer in high school, we have many considerations. We need to balance our time for family and career. Marriage shouldn't be the issue here. What's important is, we're together and we're very happy."
Roxas said his relationship with Sanchez lasted because they were committed to making time for it.
"We enjoy watching movies,"
said the senator. The last film feature they saw, he said, was Gavin O'Connor's "Pride and Glory," starring Edward Norton and Colin Farrell.
"We also like eating out. Two nights ago, we craved sweets and drove to Razon's and then to Jollibee. Masaya na kami nun. Quality time is very important to us. Between Christmas and New Year, I made it a point to not take calls or make any appointments."
Openness is also very important, Roxas said.
"Korina not only knows about my 15-year-old son; we all spent last Christmas together."