Mar, Korina: What's up?
Mar, Korina: What's up?


The Philippine Star
Funfare
By Ricardo F. Lo
January 14, 2009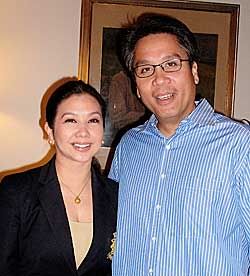 The food was good (yummy!) and so was the company. The hosts were, as they would say, "the mostest."
The occasion was
Sen. Mar Roxas
' thanksgiving dinner for the movie press held at the Aranetas' famous Bahay na Puti (White House) in Cubao, Quezon City, Monday night, highlighted by a raffle conducted by Mar himself and his ladylove,
Korina Sanchez
, who had to rush back to ABS-CBN for that evening's Bandila newscast.
Aside from Mar and Korina, also present to help entertain the almost one hundred movie editors/writers from both the tabloids and broadsheets were Mar's mom Judy Araneta-Roxas and his sister Ria; Mar's Tita Baby Araneta Fores and her children Veanna, Margarita (Gaita, who owns and manages such restaurants as Cafe Bola and Cibo) and Bledes Fores-Legarda.
It was Gaita who prepared the buffet table heaving with food, glorious food ("Home recipes," according to Gaita): Roast Beef, Lechon, Chicken Relleno, Fish with Mayo, Majestic Ham, Pasta with Salmon and Asparagus in White Sauce, Green Salad with Tuna and Anchovies and French Dressing, and Rice and Bread, plus an array of desserts consisting of Lola's Floating Island, Dulce de Leche, Black Forest and Fruits.
For me, the most mouth-watering item not found on the buffet table was, you guessed it, the "juicy-yummy" free-wheeling interview we had with Mar who graciously obliged even if, he said, it was a get-together and not a presscon (which should come later, in due time, when Mar is ready to make a "big announcement").
Let's rewind the "hidden" tape recorder...
When are you and Korina getting married ba?
"You know, hindi madali 'yan. Korina has a career and so have I. Ang mahalagang tanong ay, 'Kami ba?'"
Kayo ba?
"It's very clear naman siguro, isn't it? We've been 'on' for more than five years."
Oops! You're nearing the seven-year itch.
"Hahahaha! Huwag naman!"
In preparation for 2010, will you produce a movie about your life?
"It's not necessary. TV na lang. Hahahaha!"
You've been acting true to your title Mr. Palengke.
"From food in the palengke, I focused on cheaper medicine for the poor. You see, a lot of people are dying because they can't afford to buy medicine. The cheaper-medicine bill is now a law pero kailangan pa rin dagdagan ang regulatory measures." (Note: Check out Sen. Mar's TV clips about the law.)
What's the earliest time, or the latest, to announce your intentions in 2010?
"Now is not the right time to talk about politics. Ang daming naghihirap! Having come from Wall Street, I understand the global financial crisis very well. People are losing their jobs; OFWs are coming home jobless. The hunger will get worse before it gets better. So I'm not comfortable talking about politics."
Do you, like ordinary citizens, feel the impact of the recession? How do you deal with it?
"You know, on Christmas Eve last year, we kind of shared the noche buena with the needy. We prepared gift packs (consisting of rice, chicken, pansit, dessert, etc.) and distributed them among the residents of a place called Ulingan in Tondo, Manila."
I think everybody feels the economic pinch. No wonder you blurted with a "PI" during that rally in Makati City. I agree that with your "PI" you articulated the exasperation a lot of people feel these days. I don't think you have to say "I'm sorry" for that.
"I was directing it to anybody. Yes, it was an expression of exasperation. I'm not sorry that I said it. Come hell or high water, I will say what I feel. Para que pang naging senador ako kung hindi ko sasabihin ang sa loobin ko? Bakit ako magpapaka-plastik?"
What do you think is the impact of Barak Obama's victory in the US elections on the 2010 Philippine elections?
"I think it has revived hope not only in us Filipinos but in other people around the world — you know, na kahit naghihirap tayo ay mayroong pag-asa."
Change topic. How do you watch your health?
"I eat anything but in moderation. But I have a bad habit of treating myself to one big scoop of chocolate ice-cream before bedtime, especially when I go home tired after a gruelling day. I used to take two scoops, until Korina called my attention."
Do you work out?
"Yes, I do. I work out three to four times a week. During summer, I do aqua-aerobics in the pool."
(The White House has an Olympic-sized pool. — RFL)
What's a typical day in your life?
"I wake up at 5 a.m. I like that time of day. Tahimik. Hindi pa kumikiriring ang celfon mo, wala pang text messages. I surf the Internet. At 6:30 or 7, sometimes reporters ring me up for interview. Then, I take breakfast — one cup of coffee and a bowl of oatmeal. I go to work at 9. It's all paper work in the morning — that is, if the Senate has no session. After that, I attend functions. Otherwise, I'm home early and read after dinner. Sometimes, I fetch Korina at ABS-CBN after she's done with the newscast, lalo na pag matagal na kaming hindi nagkikita."
With your busy schedule, how much time do you devote to your love life?
"We see each other almost every day. We talk a lot on the phone. We exchange text messages."
Where do you meet... "somewhere?"
"Here... in my house."
What do you usually do?
(Laughs, blushing a bit)
"Hoy, hindi na kami high school! I'm sure you know. Naiintindihan n'yo na 'yon; alam n'yo na 'yon."