Mr. Palengke and Korina In Candon City, Ilocos Sur
Mayor Singson Hosts Mr. Palengke and Ate Koring for the Launching of Barangay Business Center

From: Liberal Party Website
February 24, 2004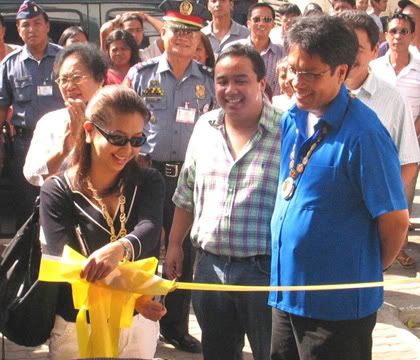 CANDON CITY, Ilocos Sur- City Mayor Allen Singson (LP) led the city officials in the launching of the Barangay Business center with fellow Liberal Partymate senator

Manuel "Mar" Roxas

serving as guest speaker on Feb 11.

The barangay business center is a micro-financing program for enterprise and livelihood development.

"We hope to steer up developments in the barangay levels through livelihood and barangay income generating projects," Singson said.

The Barangay Business Center project is one of the flagship projects of the city government. Singson said that the barangay business center will be banking on "One Barangay- One Product Concept".

Each of the 42 barangays in the city will have each own product to develop depending on the raw materials readily available in their respective villages. About 20 barangays presented their products which includes the city's main two products the Calamay (rice cake) and kornik. Others are vine made baskets and trays, bolo, bamboo furnitures, peanut butter, nata de coco. As starter, Singson hand over four checks amounting to P50, 000 each to four barangay recipients of the initial livelihood fund.

Singson said that among the objectives of the project are to develop self- reliance, spirit of cooperativism and volunterism; Assist small entrepreneurs in developing and promoting products made from local/indigenous materials found in the barangay; Generate employment through livelihood activities; Coordinate all stakeholders and make the project as a convergence program area; Provision of skills training for identified livelihood activities and establishment of barangay business centers in every barangay and city trade center at the city level

Roxas, Chair of the Senate Committee on Economic Affairs and Trade & Commerce, was clearing impressed with the products as he promised to help including potential marketing in Metro Manila.

"I will help so that we can market your products at Mega mall," Roxas said.

Roxas purchased native delicacies like pulvuron, peanut butter, nata decoco, yema, torones de mani and bokarillo.

Roxas's attendance was nearly overshadowed by presence of Television Personality
Korina Sanchez
who is romantically linked with him.
The crowd applauded and cheered when Roxas mentioned Sanchez in his short talk whom he addressed as 'ate Koring'. The people took photographs with Sanchez using mostly their cellular phones with camera.